TNI's Drugs & Democracy programme has been analysing trends in the illegal drugs market and global drug policies. It has gained an international reputation as one of the leading drug policy research institutes and as a serious critical watchdog of UN drug control institutions. Read more about this project
Damon Barrett
State-level cannabis reforms have exposed the inability of the United States to abide by the terms of the legal bedrock of the global drug control system. It is calls for a conversation the US federal government wishes to avoid. The result is a new official position on the UN drugs treaties that, despite its seductively progressive tone, serves only to sustain the status quo and may cause damage beyond drug policy.
Debat over of Amsterdamse drugsgebruikers medeverantwoordelijk zijn voor het bloedvergieten in Mexico. Presentator Nadia Moussaid besprak het met Wil Pansters - Hoogleraar Latijns Amerika, Pien Metaal - onderzoeker van TNI (Transnational Institute) gespecialiseerd in drugsbeleid in Latijns-Amerika en Pablo Gámez - journalist bij RNW (voormalige Wereldomroep) Latijns-Amerika.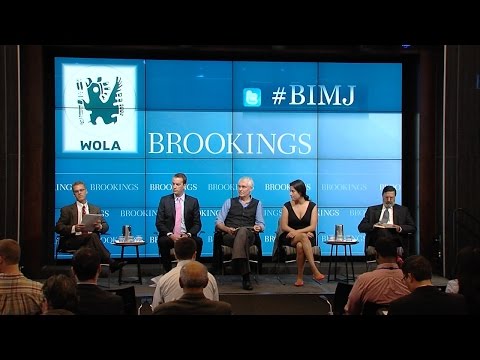 Wells C. Bennett
American attitudes toward marijuana policy are shifting. Recent polls suggest that the majority of Americans think marijuana use should be legalized. How might a shift in American marijuana policies affect the prohibitionist drug treaty system?
Christopher Hallam
In poor and developing nations pain remains largely uncontrolled. Africa is the least well served continent for access to analgesia.
Marcus Day
Caribbean states face challenges of youth involvement in crime, violence, gangs and other anti-social activities. It is not uncommonly heard the "drug problem" is to be blamed for this. This briefing wants to show this relation is far more complex and often misunderstood.
Many myths surround coca. Every day press accounts around the world use the word coca in their headlines, when in fact they refer to cocaine. TNI's Drugs and Democracy Team exposes the myths and reality surrounding the coca leaf.
The workshop is jointly organized by the Central Committee for Drug Abuse Control CCDAC and the Transnational Institute (TNI) and is funded through a GIZ grant.
With a greater number of casualties than the Afghanistan and Iraq campaigns combined, and very meagre results, the US is starting to reconsider the "War on Drugs", waged since the '70s. The paradox of the "repressive-only" approach - the tougher the government acts, the more profitable the drug trade becomes - is being increasingly exposed by the media, opinion leaders, and politicians.
Das Gesundheitsdezernat und das Drogenreferat der Stadt Frankfurt am Main veranstalten am 17. November 2014 die erste Frankfurter Fachtagung zu Cannabis.
3 January 2015
A decade ago, Myanmar seemed on course to wipe out the opium fields and heroin jungle labs along its eastern border, the notorious Golden Triangle. Today, valley after valley in these mist-shrouded mountains is covered with resplendent opium poppies, tended by farmers who perch on steep hillsides to harvest the plant's sticky, intoxicating sap.
8 December 2014
Opium cultivation in Burma stabilized in 2014 and the area under poppy remained roughly the same as last year, marking the first time since 2006 that cultivation did not expand, a report by the UN Office on Drugs and Crime (UNODC) said on Monday.
30 October 2014
Over $100bn a year is spent worldwide fighting the war on drugs. For what end?
Upcoming events