Water Justice project, run jointly by TNI and Corporate European Observatory is engaged in the work of building viable alternatives to water privatisation, focused on how to reform public water systems in order to make the human right to water a reality for everyone. Read more about this project
Global networking is key to winning battle against fracking, say activists at WSF.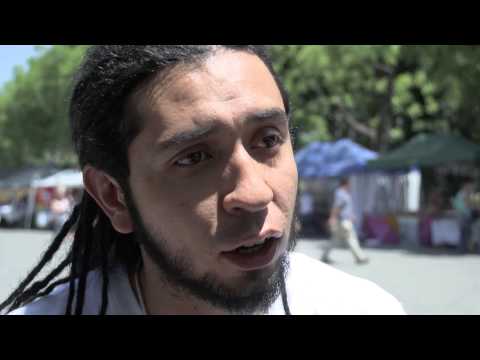 Danilo Urrea es activista de Censat Agua Viva
European Social Forum meets at time of austerity politics to strategise on how to build an effective pan-European response by Europe's social movements.
Water grabbing refers to situations where powerful actors take control of valuable water resources for their own benefit, depriving local communities whose livelihoods often depend on these resources and ecosystems.
Samir Bensaid
While both North–South partnerships and SouthSouth Partnerships have strengths and limitations, linking these in networked models is an effective way to mobilise expertise and funding and achieve success.
Les Levidow, S.M.Oreszczyn et al.
The Europe 2020 strategy's promotion of resource-efficient technologies and market incentives as the solution for sustainable agriculture is contradicted by experience where techno-fixes and market pressures have increased overall demand on resources.
Defending and Celebrating People's 'Dignity'
The Firenze 10+10, will bring together a broad range of social movements and activists from across Europe to forge a common response to the unprecedented crisis we are facing.
Those who oppose the privatisation of public services are often confronted with the objection of 'no alternative'. However over the last decade, initiatives around the world to democratise public services and ensure equal access for all, resulted in interesting successful alternatives in practice. Two new books, co-published by TNI and the Municipal Services Project, show a wide range of alternatives in the form of successful, non-commercialised public services in health, water, sanitation and electricity.
3 May 2013
Net voor haar abdicatie heeft Koningin Beatrix Prof. Dr. Mirjam van Reisen beëdigd als bestuurslid Adviesraad Internationale Vraagstukken (AIV) en daarbinnen voorzitter Commissie Ontwikkelingssamenwerking; het instituut dat de regering en de Staten-Generaal adviseert over het buitenlandse beleid.
13 November 2012
We call for a European permanent mobilization to support the fights against the crisis and build a future for everyone in Europe and in the world.
23 October 2012
Over 1,000 women and men, representing people's organisations and citizens from Asia and Europe joined together at the 9th Asia Europe People's Forum under the title "People's Solidarity against Poverty and for Sustainable Development: Challenging Unjust and Unequal Development, Building States of Citizens forCitizens"
Upcoming events