TNI's Drugs & Democracy programme has been analysing trends in the illegal drugs market and global drug policies. It has gained an international reputation as one of the leading drug policy research institutes and as a serious critical watchdog of UN drug control institutions. Read more about this project
Damon Barrett
State-level cannabis reforms have exposed the inability of the United States to abide by the terms of the legal bedrock of the global drug control system. It is calls for a conversation the US federal government wishes to avoid. The result is a new official position on the UN drugs treaties that, despite its seductively progressive tone, serves only to sustain the status quo and may cause damage beyond drug policy.
Debat over of Amsterdamse drugsgebruikers medeverantwoordelijk zijn voor het bloedvergieten in Mexico. Presentator Nadia Moussaid besprak het met Wil Pansters - Hoogleraar Latijns Amerika, Pien Metaal - onderzoeker van TNI (Transnational Institute) gespecialiseerd in drugsbeleid in Latijns-Amerika en Pablo Gámez - journalist bij RNW (voormalige Wereldomroep) Latijns-Amerika.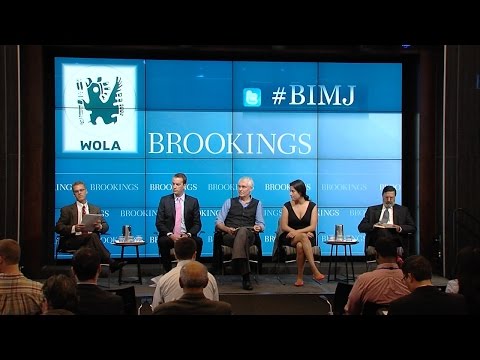 Wells C. Bennett
American attitudes toward marijuana policy are shifting. Recent polls suggest that the majority of Americans think marijuana use should be legalized. How might a shift in American marijuana policies affect the prohibitionist drug treaty system?
Many myths surround coca. Every day press accounts around the world use the word coca in their headlines, when in fact they refer to cocaine. TNI's Drugs and Democracy Team exposes the myths and reality surrounding the coca leaf.
The Expert Seminar on the Global Experiences with Harm Reduction for Stimulants and New Psychoactive Substances (NPS), an initiative of the Transnational Institute (TNI) and Forum Droghe, took place in Rome on May 20, 2014 at Università Pontificia Lateranense. A total of 23 people attended the meeting, representing research and academic institutions as well as non-governmental organizations working in the field.
This policy briefing analyses the results of the partial agreement on drugs reached at the talks being held in Havana between the Revolutionary Armed Forces of Colombia, FARC, and the Colombian government.
With a greater number of casualties than the Afghanistan and Iraq campaigns combined, and very meagre results, the US is starting to reconsider the "War on Drugs", waged since the '70s. The paradox of the "repressive-only" approach - the tougher the government acts, the more profitable the drug trade becomes - is being increasingly exposed by the media, opinion leaders, and politicians.
Das Gesundheitsdezernat und das Drogenreferat der Stadt Frankfurt am Main veranstalten am 17. November 2014 die erste Frankfurter Fachtagung zu Cannabis.
This conference will explore the nexus between land and drugs.
30 October 2014
Over $100bn a year is spent worldwide fighting the war on drugs. For what end?
20 October 2014
It's time to explore a multilateral reworking of the drug control treaties to better reflect current realities.
17 August 2014
Increasing numbers of women are being locked up in the ferocious prison systems of Latin America in the so-called "war against drugs". Often poor and black, they are among the hardest hit members of society, according to recently published reports from the United Nations and Transnational Institute.
Upcoming events