The Environmental Justice Project is part of the Economic Justice, Corporate Power and Alternatives Programme. TNI's emerging work on the corporate expansion into air, water and nature as a whole builds on work dating back to the early 1990s on the privatisation of nature, more recent work on critiquing carbon trading, and current work on land and water grabbing. It also links closely to TNI's new programme on corporate power and accountability. Read more about the project.
Muzzling NGOs is unbecoming of a democracy. Self-confident democracies encourage, indeed applaud, the involvement of citizens' associations, including NGOs, in social and political decision-making and development planning. Instead, our paranoid government bullies and terrorises them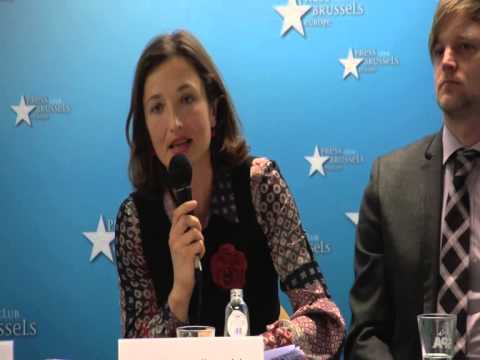 A debate about the impacts of the Investor to States Disputes Settlement on the environment, between representatives from the European Commission and Civil Society Organizations from Europe, US and Canada was held in Brussels during the last negotiations round of the Transatlantic Trade and Investment Partnership
Why has the UN allowed 13 corporate partners, many deeply responsible for climate change, to sponsor and influence climate talks in Warsaw? An infographic from a series that illustrates TNI/CEO's COP19 guide to corporate lobbying.
et al.
A briefing that explores how a trade agreement currently being negotiated between the US and the EU could open the way to multi-billion euro lawsuits from companies wanting to expand "fracking" for shale gas and oil.
At a time when genuine progress towards real climate action is more vital than ever, this guide exposes how the corporations most responsible for climate change have taken over this year's UN climate talks.
Maria Luisa Mendonça, Fabio T. Pitta and Carlos Vinicius Xavier
An examination of ethanol production in Brazil, highlighting the role of financial capital, the territorial expansion of agribusiness and the impacts on labour relations and indigenous peoples and peasant farmers.
In de aanloop naar de Europese verkiezingen van 22 mei organiseert de Fair, Green & Global Alliantie een debat waarin verschillende Europese lijsttrekkers worden uitgedaagd deze vragen te beantwoorden.
Join us for a panel debate on the likely impacts of the investment chapter of the proposed transatlantic trade deal (TTIP).
The Global Scramble for the World's Last Resources Public lecture by Michael Klare organised by the Transnational Institute June 9 19:00-21:00 De Brakke Grond (Tuinzaal) Nes 45, Amsterdam
6 March 2014
A trade deal between the EU and the US risks opening the backdoor for the expansion of fracking in Europe and the US, reveals a new report released today (Thursday, March 6) [1].
4 December 2013
In a conversation with Secretary today with Department of Trade and Industry Gregory Domingo today, Akbayan Representative Walden Bello warned the government not to agree to what he saw as inequitable agriculture and trade deals brewing at the on-going World Trade Organization (WTO) Ministerial in Bali, Indonesia.
15 September 2013
La catastrophe suscite des mouvements de protestation atteignant un niveau que le Japon n'a pas connu depuis des décennies. Le séisme a mis en évidence les problèmes sociaux profonds, tels que les insuffisances de la sécurité sociale et du droit au logement. Cette lutte bénéficie de peu d'intérêt médiatique et mérite d'être mieux connue.
Upcoming events