On November 3, 150 million US citizens voted in an election with consequences for almost 8 billion people. In the midst of a deadly pandemic and economic crisis, the majority chose to elect Joe Biden, rejecting an incumbent authoritarian and corrupt president who has openly incited violence, racism and xenophobia.
We know the crisis will not end quickly or easily with Trump so far refusing to concede and with a Senate still potentially in Republican hands. So we need to examine what will change after the elections, and what will not, at least for a while. What will be required to achieve the changes we so urgently need?
The attention to Trump has distracted from Biden's agenda. How will his administration reshape geopolitics and global governance, for poverty and war, for migration and climate, for democracy and tyranny around the world? What will the elections mean for the current set of authoritarian rulers around the world, and what will they mean for progressive forces worldwide? What will be the challenges and opportunities for campaigns committed to social and environmental justice?
16:30 (CET Brussels), 07:30 (Los Angeles), 10:30 (EST, New York), 21:00 (IST, Mumbai) 10 November 2020
Panelists:

Phyllis Bennis, New Internationalism Project at Institute for Policy Studies, author of Challenging Empire: How People, Governments and the UN Defy U.S. Power
Walden Bello, TNI associate & author of Paper Dragons: China and the Next Crash (2019) and Capitalism's Last Stand?: Deglobalization in the Age of Austerity (2013)

Cathy Feingold, Director of the AFL-CIO's International Department, Deputy President of the International Trade Union Confederation
Bill Fletcher, Jr., executive editor of globalafricanworker.com, a past president of TransAfrica Forum, and a long-time writer and trade unionist.

Moderator: Laura Flanders, journalist and host of the Laura Flanders Show
English
Date:
Tuesday, November 10, 2020
Organizer(s):
Institute for Policy Studies
Transnational Institute (TNI)
Thumbnail image: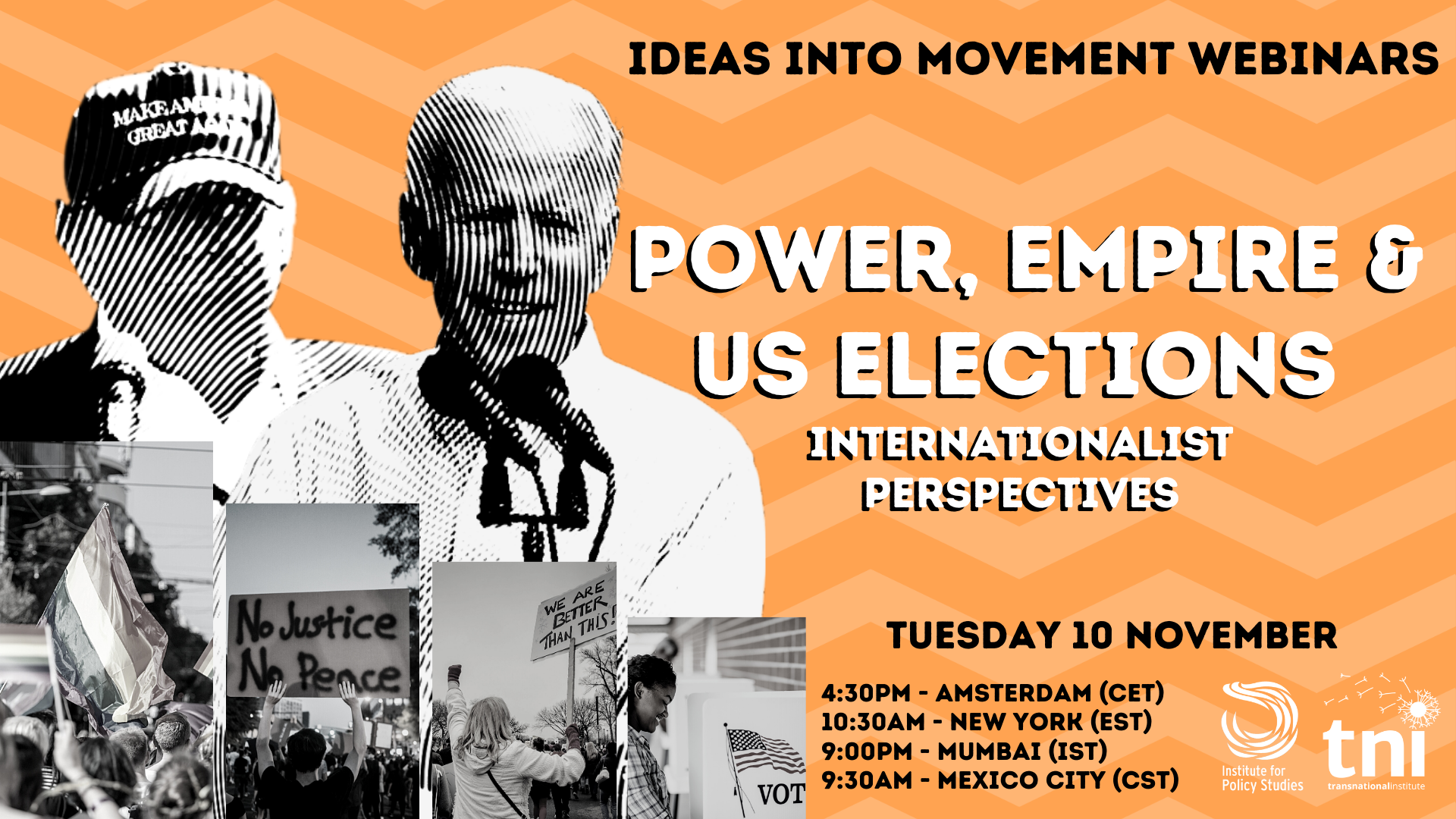 Search boost keywords:
webinar, ideas into movement, Power, Empire and US elections