TNI publications that have stood the test of time
TNI has published over 400 books and thousands of publications since its beginnings in 1974. In honour of our 40th anniversary we have listed some of the ones that made a big impact and in many cases have stood the test of time.
1. Lessons of Chile
John Gittings (eds), TNI/Spokesman books, 1975
TNI's first book based on its first conference organised in the aftermath of the Chilean military coup. The conference looked not so much at the question 'What went wrong?' but the rather more useful question 'What can we learn?' from Chile's socialist experiment.
2. How the Other Half Dies: the Real Reasons for World Hunger
Susan George, Penguin/TNI, 1976
This was Susan George's first book written after the World Food Conference in 1974. Forty years later, the book's ability to shock and its power to enrage have in no measure deminished.
The book has been re-released by TNI and can be bought on http://www.tni-books.org/


3. The International Economic Order
Michael Moffitt and Orlando Letelier, TNI, 1977

Published with the aim of to "acquainting the reader with the evolution of the Third World's quest for a new and more equitable distribution of the world's wealth and power, and the response by the developed world." Written partly by Letelier, it was only published after his assassination which showed the huge personal cost struggles for a more 'equitable distribution' could take.
4. The new gnomes: Multinational banks in the third world
Howard Wachtel, TNI, 1977
In the same series, Wachtel's short book on multilateral banks and third world debt exposed the issue of third world debt well before it became known
You can still read it here
5. Black South Africa Explodes
TNI/CIS, 1977
The only detailed account of the 1976 Soweto uprising published in Europe. The report was covered on the front page by The Observer and its release in Europe coincided with the trade union boycott of South Africa. It started a long-term relationship between progressive forces in Europe and liberation movements in Africa. A copy can be viewed at the International Institute of Social History in Amsterdam


6. Assassination on Embassy Row
Dinges, Landau, Pantheon Books, 1980
This compelling book probed all aspects of the Letelier-Moffitt assassinations, interweaving the investigations of the murder by the FBI and the Institute for Policy Studies and raised serious questions about the response of American intelligence and foreign policy to international terrorism.

7. Disarming Europe
Mary Kaldor and Dan Smith, 1982
TNI fellow Mary Kaldor and TNI associate Dan Smith, launch a book at the height of the Cold War that pulls together proposals for disarmament, non-alignment and new forms of defense.
8. The Money Mandarins
Howard Wachtel, TNI, 1986

Wachtel argues that the chief source of instability in the world economy is unregulated international banking and calls for regulation.
9. Fate Worse Than Debt
Susan George, Penguin Books, 1988
One of the top-selling books of TNI's history, Susan George's expose of the impact of third world debt was a must-read by anti-debt movements, such as Jubilee 2000, that took off in the following years.
The book has been re-released by TNI and can be bought on http://www.tni-books.org/


10. After the Wall: Democracy and Movement Politics in the New Europe
Hilary Wainwright et al (eds), TNI/Pluto Books, 1992

A record of one of the first post-revolution meetings of activists from the two halves of Europe that probed the meaning of democracy and revealed a shared commitment to the importance of personal responsibility and the need for popular movements independent of the state and political parties
11. The Next Threat: Western Perceptions of Islam
Jochen Hippler, TNI/Pluto Press, 1995
In a prescient book, six authors explored the origins and consequences of Western attitudes towards the Middle East and examined how the West was using the rise of Islam - as justification for its foreign policy and military intervention.
12. Peasants beyond protest in Central America
Biekart and Jelsma, 1994, TNI
Described by TNI fellow and agrarian scholar Jun Borras as a seminal book on transnational agrarian movements.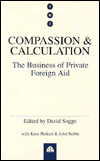 13. Compassion and Calculation. The Business of Private Foreign Aid
David Sogge and Kees Biekart, TNI/Pluto Press, 1996

An exploration of the million dollar aid agency aid business, examining critical questions such as accountability, purpose, performance and power relations in this crucial sector.As one of the very early collections raising critical questions about international development NGOs, especially as enterprises driven by market forces, it helped kick off a debate that continues up to today.
14. Towards a World Transnationals Organisation
Miriam van der Stichele, TNI, 1998
Released to coincide with the 50th anniversary of GATT and to coincide with meetings in Geneva, this booklet explained how TNCs influence decision-makers in the WTO and how to redress the current bias towards transnational corporation interests in trade negotiations.
15. Democracias bajo fuego
Martin Jelsma et al, TNI, 1998
Named "one of the most interesting - and complete - investigations on drugs and power in Latin America' by the newspaper El Tiempo in Colombia, this book on the damage caused by repressive drug policies in the region had a lasting impact.
16. Privatising Nature
Michael Goldman (editor), TNI/Pluto Press, 1998
This book examined new forms of enclosures and notions of private property emerging to appropriate nature from water rights, biodiversity, and 'gene pools' of plants and humans, to the demands of multinational corporations for free access to more land for investment and exploitation. It also documented the political resurgence of the commons in response. It inspired a new generation of environmental activists, including those who founded Carbon Trade Watch - based for a number of years at TNI.




17. Deglobalization: ideas for a new world economy
Walden Bello, TNI, 2002
This book that argued for a radical shift towards a decentralised, pluralistic system of economic governance allowing countries to follow development strategies appropriate to their needs and circumstances continues to inspire many in the movement for an alternative people-centered globalisation.
The Sky is not the limit
Carbon Trade Watch collective, TNI, 2003
When TNI posed the question as to whether emerging emissions markets were cheating people in the name of sustainable development, its critique was not always well received. A decade later, with countless examples of carbon fraud, a meaningless carbon price and many injustices committed in its name, the critique looks very prescient.
18. Reclaim the State: Experiments in Popular Democracy
Hilary Wainwright, TNI/Verso, 2005
Through insightful case studies, this book showed that there is more to anticapitalism than demonstrations: concepts like participatory democracy and economic solidarity form the heart of alternative but equally compelling visions.
19. Reclaiming Public Water: Achievements, Struggles and Visions from Around the World
TNI/Corporate European Observatory, 2007
The groundbreaking book on how reformed public water services can achieve the goal of delivering water for all has become an indispensable guide for activists fighting privatisation worldwide and those seeking to learn best practices for public water utilities.
20. Beyond Bretton Woods
John Cavanagh (eds), Pluto Press, 2008
This important book of essays went beyond the critique of neoliberal globalisation to look at three crucial questions: what kind of development should new global economic institutions promote, what are the viable alternatives to the World Bank and IMF and what other global economic institutions are needed to promote a more just trading order with greater social and ecological responsibility.
21. Selling US Wars
Achin Vanaik (ed), Interlink/TNI, 2007
An insightful and informative collection of essays by renowned experts from around the world which examines the excuses for war that were the basis for this period of the US empire drive—nuclear weapons, terrorism, "failed states," drugs, humanitarian intervention, and democracy.
22. State of Power
TNI, 2012
This encyclopedia of power, now in its third year of production, has put the Davos class in the spotlight and with illuminating infographics exposed the dangerous concentration of corporate and elite power in today's economy