Border Wars II
An update on the arms industry profiting from Europe's refugee tragedy
This briefing updates the July 2016 report 'Border Wars: the arms dealers profiting from Europe's refugee tragedy' . It shows that the European policy response to the refugee tragedy continues to provide a booming border security market for Europe's arms and security firms, some of whom are involved in selling arms to the Middle East and North Africa and all of whom encourage European policies focused on keeping refugees out. It's a win-win for the security corporations, but the cost is a deadly toll for migrants forced into ever more dangerous routes as they flee wars, conflict and oppression.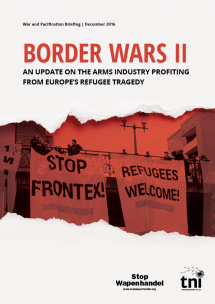 Downloads
In July 2016 Stop Wapenhandel and TNI published the report 'Border Wars: the arms dealers profiting from Europe's refugee tragedy'
The report revealed:
 
how the European policy response to refugees has led to a booming border security market building fences, providing equipment for border guards and establishing surveillance systems;
the same industry selling arms to the Middle-East and North-Africa, fuelling the conflicts, repression and human rights abuses that have led refugees to flee their homes is also the key winner of EU border security contracts;
how the arms and security industry helps shape European border security policy, through lobbying, regular interactions with EU's border institutions and its shaping of research policy;
This briefing takes a look at the most important further steps taken in 2016, including the conversion of the European border security agency Frontex into an European Border and Coast Guard, given additional responsibilities and powers, as well as the migration deal with Turkey.
This report finds that:
 
the refugee toll in 2016 (4700 known people have died crossing the Mediterranean sea) is higher than 2015 even though the total number of refugees entering Europe fell, because the EU's border security policies are predicated on stopping people entering Europe through the most common migration routes, which has led people to undertake ever more dangerous routes;
 
European nations, in particular UK, France, Belgium and Spain, have continued to export in 2016 to the Middle East and North Africa, most notably to Saudi Arabia despite its involvement in conflicts in Syria and Yemen that have led to war crimes and fueled the flow refugees;
 
Budgets for border security continue to boom at a rapid rate. Frontex' budget in 2016, €238.7 million, marked a 67.4% increase compared to the €142.6 million in 2015. It is expected to grow to an estimated €322 million in 2020, 50 times its budget of €6.3 million in 2005. The 2016 budget for the EU's Internal Security Fund was similarly increased by €116.4 million in October 2015 to a total of €647.5 million;
 
A substantial proportion of these budgets have benefited arms and security corporations in a border security market that is growing at roughly 8% a year. Airbus, Leonardo, Safran and Thales were all in the news in 2016 for border security contracts. IT firms Indra, Advent and ATOS won significant contracts for projects to identify and track refugees;
 
Security fences at Europe's borders have expanded considerably – in Austria, Bulgaria, Croatia, Estonia, Hungary, Macedonia, Slovakia, Slovenia, Turkey and Ukraine – accompanied by frequent reports of violence against refugees by border security guards as well as by extreme-right militias (sometimes in collaboration with police);
 
the EU is greatly increasing its military operations on its borders, sometimes in collaboration with NATO, through various missions, Sophia (Libya), Triton (Greece), Poseidon (Italy), Hera, Indalo and Minerva (Spain);
 
the transformation of the European border agency, Frontex, into the European Border and Coastguard Agency, grants new centralised powers to purchase equipment and intervene directly in states' border affairs (without requiring approval) that is already diminishing accountability for the impact of EU member states action on its borders;
 
the EU continued its work to externalise its borders, announced the launch of a new Migration Partnership Framework, that includes working on agreements with 16 targeted countries for cooperation to prevent refugees migrating, including countries such as Somalia, Eritrea and Sudan, nation states involved in armed conflicts and severe human rights abuses.