How Big Tech captured our public health system
The privatisation of public services is a long-standing global trend. But in the wake of the pandemic and through the introduction of contact tracing apps, Big Tech has gone one step further: Large corporations like Amazon, Microsoft, and Google are now set to control the very infrastructure that underlies our public health system. In this eye-opening discussion, Arun Kundnani interviews Dr Seda Gürses about the dangers of a system in which we depend on profit-oriented companies for receiving basic health services. How did we get to this point, and how can we imagine a different future?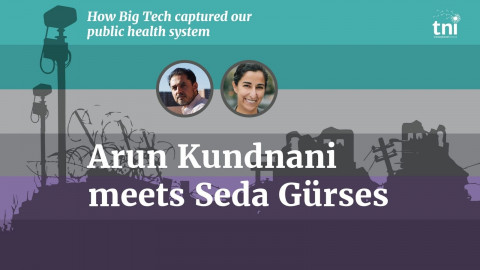 Dr Seda Gürses is an Associate Professor at TU Delft and an affiliate at KU Leuven. Her work focuses on privacy enhancing and protective optimization technologies, privacy engineering, as well as questions around software infrastructures, social justice and political economy as they intersect with computer science. Arun Kundnani is a TNI associate and author of The Muslims are Coming! Islamophobia, extremism, and the domestic War on Terror.
This video is part of a monthly series on the securitisation of health. Watch all videos here: https://www.youtube.com/playlist?list=PL6JRfkdlcGYWFO9hdjtk9ISAMbrHCHfqY