The future is now at Ireland's Cloughjordan ecovillage
The Cloughjordan Ecovillage models the transition to a low-carbon society and shares its learning through various educational activities. With 55 low-carbon homes, a carbon-neutral district heating system, a community farm, green enterprise centre, a planned reed-bed treatment plant and Ireland's lowest ecological footprint, the ecovillage is demonstrating different ways to achieve ecological, economic and social sustainability.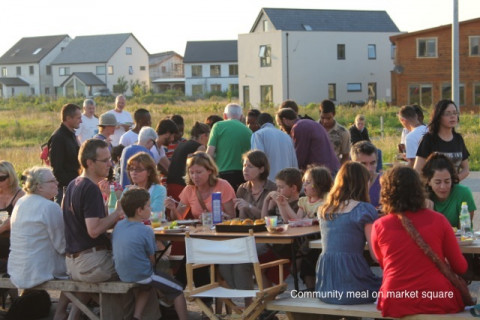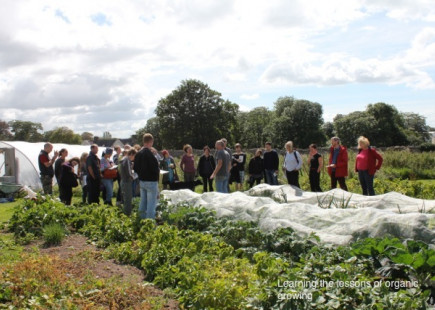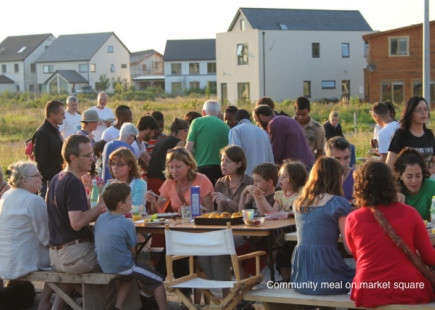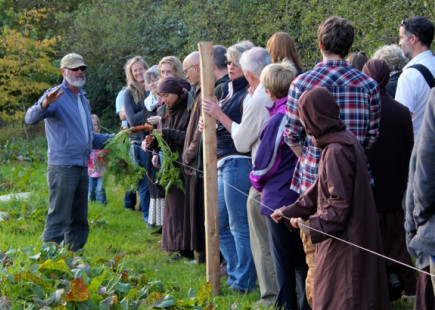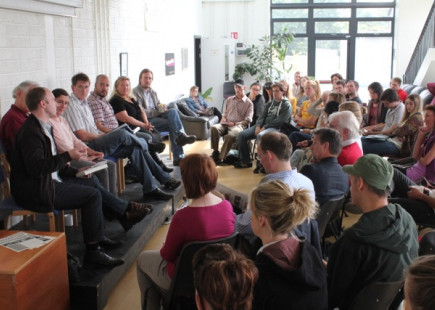 Wildlife corridors, permaculture and city allotments for vegetable growing loom large in Kim Stanley Robinson's latest book "The Ministry for the Future". The science fiction writer might as well have plucked them right out of Ireland's only ecovillage and laid them on the pages.
"These community run initiatives are crucial [to achieving the emissions targets set by the Paris Climate Change Accords]," Stanley says over a webinar hosted by the Cloughjordan ecovillage on September 19.  "Ordinary people can do really good work in establishing them and make them happen now."
Even as Robinson says he "fondly" remembers his 2015 visit to the village, it's unlikely that it served as a basis for the novel. Robinson has been writing "realistic Utopias" for the past three decades, with the intent of urging readers to do what they can do to beat climate change.
Cloughjordan ecovillage is located in County Tipperary, a two-hour drive south-west of Dublin, in the Irish midlands. The project began 20 years ago, between members of an organic food co-operative in Dublin.
"We were involved in environmental campaigning and the motivation was, why don't we create somewhere that is showing how we could live," says founding member and resident Iva Pocock.
Like Robinson, the founders wanted their creation to show that a more sustainable way of living is possible. In 1999, they established Sustainable Projects Ireland and worked at growing the membership of the village. They bought the 67-acre site in 2003, through members' fees – 80 members paid a deposit of €15,000 for one of the available 132 sites - and a loan from an ethical investor.
Today there is a 32-bed hostel, and 55 homes that were built between 2009 and 2013, after delays caused by obtaining planning permission and an archaeological assessment. New construction has paused since then as other housing projects in the Cloughjordan area put pressure on the local water source, but the ecovillage is looking to sell 47 more sites once that is remedied.
Most of the houses here are typical low energy wooden frames houses here, but there are plenty of deviations too. One house is made of cedar wood and uses recycled newspaper as insulation. "These houses are pioneering for their time," says, Veronica Ryan, another founding member of the project and resident says as we walk around the village.
She recalls that when the project began there were no such thing as building energy guidelines in Ireland — meaning zero carbon housing was literally a foreign concept. She relocated her family – including her two young daughters - from Dublin to Cloughjordan in 2009 and moved to a house in the ecovillage in 2011.
"[The group] were such practical doers and practical environmental activists," she says. "I became much more of a reality and I was inspired by the determination and the attitudes of those involved." Eleven years later, and she says living at the village has exceeded expectations.
The ecological footprint of villagers is less than half the national average, and the project is registered as an educational charity that aims to inform the public. But the question remains, how replicable is this ambitious project?
Ecovillage life
Just off the main street of Cloughjordan town, residents easily integrated with the rest of the community. "It brought a whole host of new people into the area and they had ideas that enhanced Cloughjordan in so many different ways," says Jim Casey, a retired councilor in Cloughjordan who has lived in the town his entire life. "We wanted to have one community. We did not want the old community of Cloughjordan and the new community of the ecovillage. It was important that they build together and work as one and that has happened very well."
"A lot of people in the ecovillage have been involved in projects in the community and that has been good." Some of the projects include the setting up of a heritage center and a museum, that couldn't operate to the same success without the help of those living in the ecovillage, Casey adds.
Walking through the village, Ryan points out the chimney of the Riot Rye Bakehouse, which that has won several awards over the years including gold, silver and bronze medals at Blas na hEireann National Irish Food Awards.
The baker, and two farmers that work on the village farm, operate a community supported business model. This means villagers and others in the surrounding area commit to paying the baker for fresh bread three times a week, while others do the same with farm produce. This guarantees people's livelihoods while members receive fresh and seasonal produce that has not travelled very far. Ryan says she usually eats vegetables that have been harvested the very same day.
Davie Philipps, another founding member and resident of the village, calls the bakery's bread "amazing".
"They make about 400 loaves a week," he says. "The want to show how a business can stay small, not have to expand, employ and export. Every community can have a business this scale."
The ecovillage's 67 acres is divided into three areas. Beyond the houses there is a second parcel of land includes a 20,000 tree biodiversity garden. A third area includes a community supported farm where the village grows 70 varieties of native Irish apples including Golden Spire, Honey Baw, White Moss, Cavan Wine, Red Stripe and Pig Snout among others. There are also personal allotments for growing vegetables and the village enterprise center. The latter acts as town hall, event center and co-working space for villagers to work.
With 130 residents and 100 adults that live in the village, each adult pledges 100 hours of volunteer work a year and becoming a member of a working group. "People come together to help on the land, whether that's clearing the reeds from the urban drainage system or pruning the apple trees," Ryan says.
Other working groups organize the member's meetings or take part in the village education research and training group. Still more volunteer as tour guides for weekend visiting groups. Residents have day jobs. Many were working remotely well before the COVID-19 lockdown. Live-work units are dotted around the village and enable people to operate from a space adjacent to their homes. There is a resident academic that commutes to Dublin by train each day, the main station is within walking distance.
Sustainable living
In 2014, Tipperary Energy Agency measured the average ecovillager's ecological footprint at 2 global hectares, a unit of measure that measures ecological footprint in relation to the biocapacity of the planet. Today that output is roughly the same, and that is less than half the average Irish output of 4.8 global hectares, according to a 2014 WWF report. "Only a very small amount of people on earth enjoy the quality of life we have," says Philips.
A global hectare considers both a person's ecological footprint and the capacity of the local ecosystem to regenerate itself. Among other things, the farming methods and biodiversity garden help keep the number for Cloughjordan's ecovillage low. As does a central district heating system that is fueled by wood pellets, before piping heat under the ground into each house and building in the village. Unused timber from a nearby sawmill in Ballinasloe arrives twice per week.
"There's no reason why every housing estate in Ireland doesn't have a district heating system that's fueled by renewable energy," says Peader Kirby, a retired professor from the University of Limerick who resides in the village.
Sitting at a round table in the enterprise center, Kirby says he spends a lot of his time volunteering on the educational projects run by the village. "It offers a unique opportunity to do education in situ, in a place that itself is the raw material for the education," he explains.
Under normal circumstances, the center would be bustling on the second Tuesday of September, but COVID-19 cancelled tours and training courses. Last year more 1600 people attended these events while hundreds more attended festivals including both a permaculture and an apple festival.
Kirby and his wife joined the project in 2007 and built their house in 2009. While the COVID-19 crisis is presenting challenges, they pale in comparison to the fallout from the 2008 financial crisis. "One of the drawbacks in this project was (that it was) conceived during  the boom years of the Celtic Tiger when money seemed to be no object," Kirby explains.
Back then, 132 parties had committed to buying sites from Sustainable Project Ireland, with each of them paying. When the crisis hit, half pulled out, and just 55 houses were built in the first wave. Walking around the residential area of the village the ghosts of those days are evident. Incomplete foundations lay dormant on either side of wildlife corridors, on lots that are being overrun by blackberry bushes and singing birds.
"During the worst of the years the main thing was to avoid liquidation," Kirby says, adding that he has has learned more in the last decade living in the the ecovillage than he did in his entire "previous life."
"It's a little like growing up, you know. We all arrived here with great enthusiasm and idealism, he continues. "Then you hit the buffers of life and realize that things aren't as straightforward."
Can it be replicated?
Kirby insists the village has emerged from the post-crisis doldrums and that this realistic approach has them ready to confront the future. But outside observers wonder how much of this intriguing model for living can be scaled up and reproduced.
Cloughjordan ecovillage's housing model is pioneering in terms of being the first low or zero carbon housing to surface in Ireland. But for Diarmuid Torney, an expert on environmental politics and associate professor at Dublin City University, it doesn't offer a definitive solution to issues around carbon neutrality and housing.
While the community supported farm and growing allotments are easily transferrable, other elements are more challenging, he says.  "Some of the major challenges we have in Ireland and in other countries is not with how we build new homes, but how we retrofit existing ones," Torney says. "They can't really tell us something about that."
Nor do the demographics of the village match the makeup of high density urban neighborhoods. "They are not a very diverse group of people — and they have spoken openly about this when I was there — they are older, middle class people," Tomey says. 
The village uses consensus decision making. "They have a monthly meeting where all decisions are made," he explains. "That's a very labor-intensive way of running communities. Our modern societies have evolved in a way that most of us delegate those decisions to a small group of people but that's the trade-off we make, because we don't have the time to be participating in every decision and get on with the rest of our lives."
But the residents themselves argue their way of life does have wider appeal. Davie Philips says that while the interpersonal relations are challenging, they are also the most valuable part of living in a communal way. "You have people with different politics, world views and values all coming here," he says. "We are not all in this together because we have one faith, we are not all in this because we have one leader or one objective."
This puts a premium on communication, conflict mediation self-awareness. "People are here to retire. People are here because they want to raise their kids in a healthy way. People are here because they have a business that fits really well. People are here because they want to be part of this transition the world is making," he says. "But in that long term that diversity, like diversity in nature will be a strength."
Cloughjordan Ecovillage is one of twelve inspiring stories of local transformation shortlisted for the 2020 Transformative Cities People's Choice Award. Transformative Cities is a global process to search and support transformative practices and responses that are tackling global crises at the local level. You can still vote for the initiative that you find deserves more attention and resources to scale up until the 16th of November at: 
https://transformativecities.org
.
The Transformative Cities Initiative, hosted by the Transnational Institute, provided research and reporting support for this article.