Sebastián Torres
Associate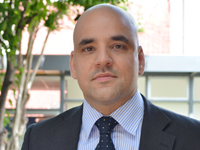 Sebastián is a Uruguayan political economist with over 15 years of experience in public policy, agro-industrial development strategies and prospective studies.
He held a post-doc position at the Economic and Social Research Council (UK), and has a Ph.D from the University of Leicester, an MA from the Institute of Social Studies (The Hague), and a BA from the University of the Republic of Uruguay.
In addition, he has received professional training from Harvard, MIT, Cambridge University, and multilateral organizations such as the Economic Commission for Latin America and the Caribbean (ECLAC). During the past decade, he was National Director of Industry and Director of the National Research and Innovation Agency (ANII) of Uruguay, and a Visiting Research Fellow at the London School of Economics and at the United Nations World Institute for Development Economics Research (UNU-WIDER).
His recent publications include:
2017 - Impactos sectoriales en Uruguay de la firma de un tratado de libre comercio entre el Mercosur y China. Estado y Comunes 4, 199-215.
2017 - Primarización productiva, empleo precario y automatización en América Latina. En "Ética y economía la relación dañada: aportes camino al G-20 2018 en el marco de la agenda 2030". C. Calvo, H. Shikiya y D. Montealegre (eds.). Geneva: Globethics Focus 43, 121-137.
2016 – Industrial Councils in Uruguay. Box included in "UNCTAD 2016 Trade and Development Report: Structural Transformation for Inclusive and Sustained Growth". Geneva: UNCTAD.
2014 - La provocación del futuro: retos del desarrollo en el Uruguay de hoy (con G. Caetano y G. de Armas). Montevideo: Editorial Planeta.
2014 - Reorienting Development: State-owned Enterprises in Latin America and the World (with D. Chavez, ed.). Amsterdam: Transnational Institute.
2014 - Plan Industrial Fase II: Audiovisual, Diseño, Oleaginosos y Olivícola (con L. Pittaluga y A. Rius, eds.) Montevideo: Gabinete Productivo de la República Oriental del Uruguay.
2012 - Plan Industrial Fase I: Automotriz, Biotecnología, Farmacéutico, Forestal-Madera y Naval (con L. Pittaluga, ed.) Montevideo: Gabinete Productivo de la República Oriental del Uruguay.
2011 - Natural Resource Dependence and Economic Performance in the 1970-2000 Period (with G. Mavrotas and M. Murshed). Review of Development Economics 15(1), 124-138.
2009 - Health, Wealth, Fertility, Education, and Inequality (with D. Fielding). Review of Development Economics 13(1), 39-55.