At a time in history when reactionary forces are gaining ground and enabling even more corporate looting of our common wealth and our fragile planet, an institute like TNI is more critical than ever.
In 2017, we marked 43 years of critical thinking, exposing the underlying causes of today's authoritarian politics, and putting forward the real solutions we need.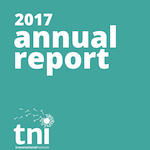 Downloads
We were particularly proud to get our new War and Pacification programme off the ground, raising money for its work exposing the dangerous policies and actors behind the increasing militarised response to social problems – from migration to poverty. In June, we brought together over 40 critical activists and researchers to examine the long-term roots of authoritarianism, launching a series of papers that will continue into 2018. We also worked with our partners at the Institute of Social Studies to unpack the rural dimensions of authoritarian politics, holding a conference in March at which more than 70 papers were presented.
In the same academic vein, TNI also launched the CAROLINE post-doctoral programme, which commenced in October. Researcher Siobhan Airey is on secondment to TNI from UCD (Dublin), in an academic-TNI partnership.
Meanwhile, our Public Alternatives work is ever more successful in uncovering and showing the real alternatives to privatized services and neoliberal cities. Our pioneering Reclaiming Public Services report, which for the first time counted and listed the wave of cities bringing services back under public control has been cited constantly, including by the UK Labour Party leader Jeremy Corbyn. Building on this research, TNI in 2017 also launched a new participatory award, Transformative Cities, to recognize and promote cities leading and delivering radical economic and social justice.
TNI also works with national governments who are prepared to make radical necessary policy changes. In 2017, TNI advised the Canadian government as it took its first steps towards legal regulation of cannabis markets. We also supported the Ecuadorian government, with one of our researchers chairing a commission on investment agreements that led the country in May 2017 to announce it would terminate its remaining 16 Bilateral Investment Agreements.
To sustain this work, TNI has been busy fundraising – successfully raising €4.4 million in new grants for 2017 and beyond. We also started to diversify our funding knowing that official government and philanthropic grant funding are increasingly threatened in the current political climate. This resulted in the employment of a community builder, who will help build relationships and community funding that can ensure our endurance and independence in coming years.
We believe in transparency and accountability for our funding, so were very proud too that our 2017 financial reports received 5 stars for 'excellence' by the Transparify initiative.
TNI believes in practicing what we preach, so we were also thrilled in 2017 to finally install solar panels on our building roof. We were the first in the Netherlands to have optimisers installed, which means we currently have the most advanced small- scale technology in the country. So far, we have already cut our electricity and carbon emissions by 30%.
This is our work – to expose the powerful, propose solutions, share best practice and work with social movements who can bring about change.
We are immensely grateful to all those donors, large and small, who believe in our work and make it possible.
Thank you, Fiona Dove.