The EU Crisis Pocket Guide
2012 edition
A useful pocket guide on how a crisis made in Wall Street was made worse by EU policies, how it has enriched the 1% to the detriment of the 99%, and outlining some possible solutions that prioritise people and the environment above corporate profits.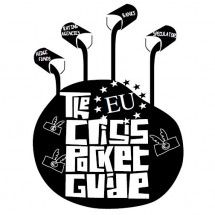 The EU Crisis Pocket Guide has been updated in English (November 2012)

Now also in Italian!
Click here for the Spanish version


Contents
How a private debt crisis was turned into a public debt crisis and an excuse for austerity
The way the rich and bankers benefited while the vast majority lost out
The devastating social consequences of austerity
The European Union's response to the crisis: more austerity, more privatisation, less democracy
Map of resistance across the EU in 2012
Ten alternatives put forward by civil society groups to put people and the environment before corporate greed
Resources for further information
References for pocket guide (2012 edition)


Page 2

Ha-Joon Chang, Austerity has never worked, The Guardian 4 June 2012
IMF, IMF Sees Heightened Risks Sapping Slower Global Recovery, 9 October 2012
David Jolly, Greek Economy Shrank 6.2% in Second Quarter, 13 August 2012
Heather Stewart, George Osborne's austerity is costing UK an extra £76bn, says IMF, The Observer, 13 October 2012
Nicoletta Batini, Giovanni Callegari and Giovanni Melina, Successful Austerity in the United States, Europe and Japan, IMF Working Paper, July 2012
BBC Radio 4, Today, Interview with Nicoletta Batini on the main findings of the paper, 24 August 2012



Page 3
Grail Research, Global Financial Crisis, 12 September 2009
Polly Curtis, Reality Check: how much did the banking crisis cost taxpayers? The Guardian, 11 September 2011
Market Watch, Fortis gets $16.4 billion in partial privatization, 29 September 2008
European Commission, New crisis management measures to avoid future bank bail-outs, 6 June 2012
NAMA, Anglo Irish Bank/INBS bailout to cost €52bn revealed in Dail questioning, 19 September 2012


Page 4
Myriam Vander Stichele, Bank regulation delays, bailouts, austerity and protests, SOMO, October 2012
UNICEF, Austerity Measures Threaten Children and Poor Households, September 2011
Wall Street Journal, Unemployment, Production Data Show Greece's Economy Worsening, 10 February 2012
European Commission, Unemployment statistics, accessed 10 October 2012
Helena Smith, Greek homeless shelters take in casualties of debt crisis, The Guardian, 10 February 2012
Kerin Hope, Grim effects of austerity show on Greek streets, Financial Times, 17 February 2012
International Labor Organization, Work Inequalities in the Crisis Evidence from Europe, February 2012


Page 5
Capgemini & Merril Lynch, The 16th Annual World Wealth Report 2012, 19 June 2012
Capgemini & Merril Lynch, World Wealth Report 2011, 2011
Banksdaily.com, Top banks and banking groups in Europe, ranked by net profit (incl. full-year 2011 results)
The High Pay Commission, Cheques With Balances: why tackling high pay is in the national interest, November 2011
CEO, Visit Brussels – the heart of lobbying, 11 September 2011
Dieter Piehwe, Measuring European relations of lobby power, February 2012
FT, America wakes to the din of inequity, 16 October 2011


Page 6
Institute for Fiscal Studies, The IFS Green Budget, February 2012
Heather Stewart, Osborne's austerity drive cut 270,000 public sector jobs last year, The Guardian, 14 March 2012
Rajeev Syai, Leaked documents reveal plan to lengthen public sector working hours, The Guardian, 10 October 2012
Ian Traynor, Germany to set the terms for saving the euro, the Guardian, 31 January 2012
Wall Street Journal, Europe's Banker Talks Tough: Draghi Says Continent's Social Model Is 'Gone,' Won't Backtrack on Austerity, 24 February 2012 . Full interview available here: http://www.ecb.int/press/key/date/2012/html/sp120224.en.html
Third World Network, More austerity won't solve European crisis, Third World Resurgence, May 2012
UNDESA, World Economic Situation and Prospects 2012, 2012


Page 7
European Commission, The Second Economic Adjustment Programme for Greece - March 2012. European Economy Occasional Papers 94, March 2012, page 118
European Commission, The Economic Adjustment Programme for Portugal. Fourth review - Spring 2012. European Economy Occasional Papers 111, July 2012
Randeep Ramesh, Hundreds of contracts signed in 'biggest ever act of NHS privatisation', 3 October 2012
UNISON, Stronger Together: A UNISON guide to influencing the new NHS, 2012
Blue Planet Project et al, Our Right to Water, Case studies on austerity and privatisation in Europe, March 2012
TNI, EU Commission Forces Crisis-hit Countries to Privatise Water, 17 October 2012
Corporate European Observatory, European Union uses eurocrisis as alibi to push privatisation of water services, 2 May 2012
PSI, Victory in Italy as court blocks privatisation, 27 July 2012
TNI, From Maastricht to the Fiscal Treaty. An interview with Susan George, 8 March 2012
Andy Storey, The debt crisis and the fiscal treaty referendum in Ireland, 1 June 2012
Forbes, Spain Forced To Impose Haircuts On Savers, Private Investors As Part Of Bailout Deal, 7 October 2012
See leaked document: Spain - Memorandum of Understanding on Financial-Sector Policy Conditionality, July 2012
Ian Traynor, Europe prepares for another Franco-German tussle in Brussels, The Guardian, 14 October 2012


Protest map
Maria Margaronis, Dimitris Christoulas and the legacy of his suicide for Greece, The Guardian, 4 April 2012
The Guardian, Athens descends into violence as 200,000 march against austerity, 26 September 2012
The Guardian, Merkel visits Greece as 50,000 people protest - as it happened, 9 October 2012
BBC News, Athens clashes as Greek police fire tear gas, 26 September 2012
Kerin Hope, Athens protests erupts into violence, Financial Times, 18 October 2012
Giles Tremlett, Spanish protest against spending cuts and changes to labour rights, 19 February 2012
Giles Tremlett & Ian Traynor, Spanish take to streets in protest as MPs pass €65bn austerity package The Guardian, Thursday 19 July 2012
Graeme Wearden, Eurozone as it happened: Riot police clash with anti-austerity protesters in Madrid, The Guardian, 25 September 2012
AP, Anti-austerity protests grip 56 Spanish cities, 7 October 2012
Joana Gorjão Henriques, Portugal finally stands up and protests, 24 September 2012


References for the guide (2011 edition)

Thanks to Susan George, Myriam van der Stichele, Andy Storey for comments and Ricardo Santos for the design.