TNI's webinars bring together thinkers and activists to analyse critical global issues and put forward transformative alternatives and solutions. Our focus is transnational, highlighting the global context and dimensions of different crises, as well as profiling the social movements, especially those in the Global South, that are leading struggles for justice.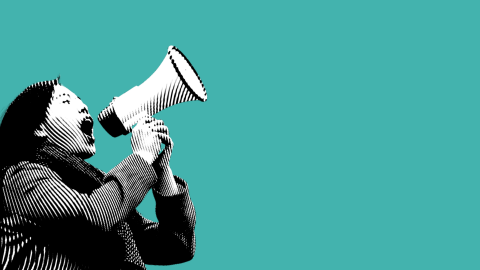 Missed our recent webinars? Don't worry, we recorded them so you can catch up. Find all past webinars on TNI's Youtube channel.
Upcoming webinars: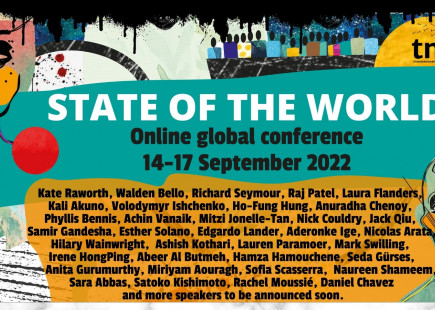 State of the World 2022: Digital Global Conference
Click here to get your ticket for the sessions. To make the conference accessible for as many people as possible we have a sliding scale pricing structure; based on capacity to pay. One ticket gives you access to all sessions.
You can find more details and the four-day programme here.
Past webinars: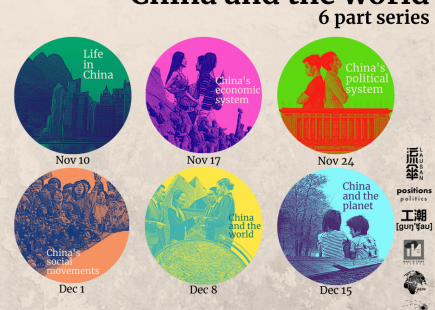 Panelists:
 
Phyllis Bennis, New Internationalism Project at Institute for Policy Studies, author of Challenging Empire: How People, Governments and the UN Defy U.S. Power
Walden Bello, TNI associate & author of Paper Dragons: China and the Next Crash (2019) and Capitalism's Last Stand?: Deglobalization in the Age of Austerity (2013)

Cathy Feingold, Director of the AFL-CIO's International Department, Deputy President of the International Trade Union Confederation
Bill Fletcher, Jr.,  executive editor of globalafricanworker.com, a past president of TransAfrica Forum, and a long-time writer and trade unionist. 
 
Moderator: Laura Flanders, journalist and host of the Laura Flanders Show
Financing the future we want
In the first episode Financing the future we want – from a green recovery to a just transition we explored the options and mechanisms we have in the current circumstances to avoid austerity and invest in a just transition. How can we ensure that the Global South benefits? How can we change the narrative to stop an unfolding crisis become a deepening emergency?
Panellists:
Professor Jayati Ghosh, award-winning economist Jawaharlal Nehru University, India. Author of India and the International Economy (2015) and co-editor of Handbook of Alternative Theories of Economic Development, 2018.
Ann Pettifor, political economist, director of PRIME (Policy Research in Macroeconomics and author of The Production of Money (2017)
Oscar Reyes, Associate Fellow, Institute for Policy Studies and author of Change Finance, not the Climate (2020)
Alvin Mosioma is the founding Executive Director of Tax Justice Network Africa, a Pan-African Advocacy and Research Network of 31 members in 16 African countries working on Tax Justice and curbing of IFFs from Africa
12. People Power and the Pandemic
Panellists:
Thenjiwe McHarris, Movement for Black Lives (USA)
Hakima Abbas, Assocation for Women's Rights in Development (Senegal)
Rafeef Ziadah, Palestinian performance poet/Professor at SOAS
Josua Mata, Secretary General, SENTRO trade union, Philippines
Vrinda Grover, Human rights lawyer, India
Moderator: Hilary Wainwright, author of A New Politics from the Left (2018)
11. Walls Must Fall - Ending the deadly politics of border militarisation
Panellists:
Harsha Walia , author of Undoing Border Imperialism (2013)
Jille Belisario , Transnational Migrant Platform-Europe (TMP-E)
Todd Miller , author of Empire of Borders (2020), Storming the Wall (2019) and TNI's report More than A Wall (2019)
Kavita Krishnan , All India Progressive Women's Association (AIPWA).
10. Taking on the Tech Titans: Reclaiming our data commons
Panellists:
Anita Gurumurthy , Founding member and director of IT for Change, India, where she leads research collaborations and projects with a focus on governance, democracy and gender justice
Nanjira Sambuli , Researcher, writer, policy analyst, advocacy strategist on tech and governance, Kenya
Ben Tarnoff , Tech worker, writer and founding editor of technology magazine Logic and author of the forthcoming Voices from the Valley: Tech Workers Talk About What They Do—And How They Do It (Sept 2020), US
Caroline Nevejan , Chief Science Officer, City of Amsterdam & Chair of Designing Urban Experience at the University of Amsterdam
Vahini Naidu , Trade negotiator, Department of Trade, Industry and Competition, South Africa
Moderated by Ben Hayes , TNI Associate, Founding director of AWO, a new data rights agency. Researcher and consultant on security policies, counter-terrorism, border control and data protection.
9. COVID-19 and the global fight against mass incarceration
Panellists:
Olivia Rope , Director of Policy and International Advocacy, Penal Reform International
Isabel Pereira , Principal investigator at the Center for the Study of Law, Justice & Society (Dejusticia), Colombia
Sabrina Mahtani, Advocaid Sierra Leone
Maidina Rahmawati , Institute of Criminal Justice Reform (ICJR), Indonesia
Andrea James , Founder and Exec Director, and Justine Moore , Director of Training, National Council For Incarcerated and Formerly Incarcerated Women and Girls, USA
 
8. Feminist Realities – Transforming democracy in times of crisis
Panellists:
Tithi Bhattacharya , Associate Professor of History and the Director of Global Studies at Purdue University and co-author of the manifesto Feminism for the 99%.
Laura Roth , Lecturer of legal and political philosophy at Universitat Oberta de Catalunya, Barcelona, member of Minim Municipalist Observatory and co-author of the practice-oriented report Feminise Politics Now!
Awino Okech , Lecturer at the Centre for Gender Studies at School of Oriental and African Studies (SOAS), University of London who brings over twelve years of social justice transformation work in Eastern Africa, the Great Lakes region, and South Africa to her teaching, research and movement support work.
Khara Jabola-Carolus , Executive Director of the Hawaii State Commission on the Status of Women, co-founder of AF3IRM Hawaii (the Association of Feminists Fighting Fascism, Imperialism, Re-feudalization, and Marginalization) and author of Hawaii's Feminist Economic Recovery Plan for COVID-19.
Felogene Anumo , Building Feminist Economies, AWID presenting the #feministbailout campaign
7. May 20: Public is Back - Proposals for a democratic just economy
Panellists:
 
Philip Alston , outgoing UN Special Rapporteur on extreme poverty and human rights
Rosa Pavanelli , General Secretary of the global union federation Public Services International (PSI)
Aderonke Ige , Our Water, Our Rights Campaign in Lagos / Environmental Rights Action /Friends of The Earth Nigeria
Sulakshana Nandi , Co-chair, People's Health Movement Global (PHM Global)
6. May 13: A Global Green New Deal
Panellists:
 
Richard Kozul-Wright , Director of the Division on Globalization and Development Strategies at the United Nations Conference on Trade and Development, author of Transforming Economies: Making Industrial Policy Work for Growth, Jobs and Development
Karin Nansen , chair of Friends of the Earth International, founding member of REDES – Friends of the Earth Uruguay
Sandra van Niekerk, Researcher for the One Million Climate Jobs campaign, South Africa
David Adler briefly joined the discussion to introduce Progressive International, replacing Asad Rehman of War on Want - a coorganiser of the Global Green New Deal campaign.
5. April 29: States of Control – the dark side of pandemic politics
Panellists:
 
Fionnuala Ni Aolain , UN Special Rapporteur on the Protection and Promotion of Human Rights while Countering Terrorism, University of Minnesota
Arun Kundnani , New York University, author of The Muslims are Coming! Islamophobia, extremism, and the domestic War on Terror and The End of Tolerance: racism in 21st century Britain
Anuradha Chenoy , School of International Studies in Jawaharlal Nehru University (retired), and author of Militarisation and Women in South Asia
María Paz Canales , Derechos Digitales (Digital Rights campaign), Chile
4. April 22: Taking Health back from Corporations: pandemics, big pharma and privatized health
Panellists:
Susan George , Author and President of the Transnational Institute
Baba Aye , Health Officer, Public Services International
Mark Heywood , Treatment Action Campaign, Section27 and editor at the Daily Maverick
Kajal Bhardwaj , Independent lawyer and expert on health, trade and human rights
David Legge , Peoples Health Movement Moderator: Monica Vargas, Corporate Power Project, Transnational Institute
3. April 15: A Recipe for Disaster: Globalised food systems, structural inequality and COVID-19
Panellists:
Rob Wallace author of Big Farms Make Big Flu and co-author of Neoliberal Ebola: Modeling Disease Emergence from Finance to Forest and Farm.
Moayyad Bsharat of Union of Agricultural Work Committees (UAWC), member organization of La Via Campesina in Palestine.
Arie Kurniawaty of Indonesian feminist organization Solidaritas Perempuan (SP) which works with women in grassroots communities across the urban-rural spectrum.
Sai Sam Kham of Metta Foundation in Myanmar.
Paula Gioia , peasant farmer in Germany and member of the Coordination Committee of the European Coordination Via Campesina.
2. April 8: The coming global recession: building an internationalist response
Panellists:
Professor Jayati Ghosh , award-winning economist Jawaharlal Nehru University, India. Author of India and the International Economy ( 2015) and co-editor of Handbook of Alternative Theories of Economic Development , 2018.
Quinn Slobodian , associate professor of history, Wellesley College. Author of Globalists: The End of Empire and the Birth of Neoliberalism (2018)
Walden Bello , author of Paper Dragons: China and the Next Crash (2019) and Capitalism's Last Stand?: Deglobalization in the Age of Austerity (2013)

Lebohang Liepollo Pheko , Senior Research Fellow  of Trade Collective, a thinktank in South Africa that works on international trade,  globalisation, regional integration and feminist economics
1. April 1: Building an internationalist response to Coronavirus
Panellists:
Sonia Shah , award-winning investigative science journalist and author of Pandemic: Tracking contagions from Cholera to Ebola and Beyond (2017).
Luis Ortiz Hernandez , public health professor in UAM-Xochimilco, Mexico. Expert on social and economic health inequities.
Benny Kuruvilla , Head of India Office, Focus on the Global South, working closely with Forum For Trade Justice.
Mazibuko Jara , Deputy Director, Tshisimani Centre for Activist Education, helping to coordinate a national platform of civic organisations in South Africa to confront COVID-19.
Umyra Ahmad , Advancing Universal Rights and Justice Associate, Association for Women's Rights in Development (AWID), Malaysia
Sign up for our newsletter to get the latest information on our upcoming webinars. You might also enjoy TNI's podcast, State of Power.
We count on your essential support to continue doing our work. We hope you will consider a one time donation or becoming a friend of TNI .