Outsourcing oppression
How Europe externalises migrant detention beyond its shores
This report seeks to join the dots between Europe's outsourcing of migrant detention to third countries and the notoriously poor conditions in those migrant detention centres. Europe calls the shots on migrant detention beyond its shores but is rarely held to account for the deeply oppressive consequences, including arbitrary detention, torture, forced disappearance, violence, sexual violence, and death.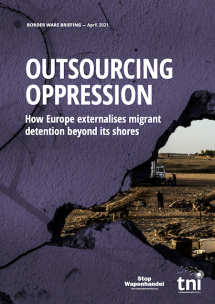 Key findings
The European Union (EU), and its member states, externalise detention to third countries as part of a strategy to keep migrants out at all costs. This leads to migrants being detained and subjected to gross human rights violations in transit countries in Eastern Europe, the Balkans, West Asia and Africa.


Candidate countries wishing to join the EU are obligated to detain migrants and stop them from crossing into the EU as a prerequisite for accession to the Union. Funding is made available through pre-accession agreements specifically for the purpose of detaining migrants.


Beyond EU candidate countries, this report identifies 22 countries in Africa, Eastern Europe, the Balkans and West Asia where the EU and its member states fund the construction of detention centres, detention related activities such as trainings, or advocate for detention in other ways such as through aggressively pushing for detention legislation or agreeing to relax visa requirements for nationals of these countries in exchange for increased migrant detention.


The main goal of detention externalisation is to pre-empt migrants from reaching the external borders of the EU by turning third countries into border outposts. In many cases this involves the EU and its member states propping up and maintaining authoritarian regimes.


Europe is in effect following the 'Australian model' that has been highly criticised by UN experts and human rights organisations for the torturous conditions inside detention centres. Nevertheless, Europe continues to advance a system that mirrors Australia's outsourced model, focusing not on guaranteeing the rights of migrants, but instead on deterring and pushing back would-be asylum seekers at all costs.


Human rights are systematically violated in detention centres directly and indirectly funded by the EU and its member states, including cases of torture, arbitrary and prolonged detention, sexual violence, no access to legal recourse, humanitarian assistance, or asylum procedures, the detention of victims of trafficking, and many other serious violations in which Europe is implicated.


Particularly horrendous is the case of Libya, which continues to receive financial and political support from Europe despite mounting evidence of brutality, enslavement, torture, forced disappearance and death. The International Organisation for Migration (IOM) and the UN High Commissioner for Refugees (UNHCR), implement EU policies in Libya and, according to aid officials, actively whitewash the consequences of European policies to safeguard substantial EU funding.


Not only does the EU deport and push back migrants to unsafe third countries, it actively finances and coercively pushes for their detention in these countries. Often they have no choice but to sign 'voluntary' agreements to be returned to their countries of origin as the only means of getting out of torturous detention facilities.


The EU implements a carrot and stick approach, in particular in its dealings with Africa, prolonging colonialist dynamics and uneven power structures – in Niger, for example, the EU pushed for legislation on detention, in exchange for development aid funding.


The EU envisages a greater role for migrant detention in third countries going forward, as was evidenced in the European Commission's New Pact on Migration and Asylum.


The EU acts on the premise of containment and deterrence, namely, that if migrants seeking to reach Europe are intercepted and detained along that journey, they will be deterred from making the journey in the first place. This approach completely misses the point that people migrate to survive, often fleeing war and other forms of violence. The EU continues to overlook the structural reasons behind why people flee and the EU's own role in provoking such migration.


The border industrial complex profits from the increased securitisation of borders. Far from being passive spectators, the military and security industry is actively involved in shaping EU border policies by positioning themselves as experts on the issue. We can already see a trend of privatising migrant detention, paralleling what is happening in prison systems worldwide.