Financing border wars
The border industry, its financiers and human rights
This report seeks to explore and highlight the extent of today's global border security industry, by focusing on the most important geographical markets—Australia, Europe, USA—listing the human rights violations and risks involved in each sector of the industry, profiling important corporate players and putting a spotlight on the key investors in each company.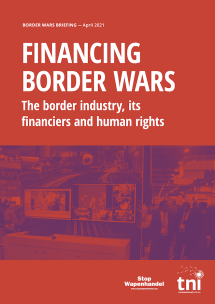 Download the full briefing here.
Executive summary
Migration will be one of the defining human rights issues of the 21st century. The growing pressures to migrate combined with the increasingly militarised state security response will only exacerbate an already desperate situation for refugees and migrants. Refugees already live in a world where human rights are systematically denied. So as the climate crisis deepens and intersects with other economic and political crises, forcing more people from their homes, and as states retreat to ever more authoritarian security-based responses, the situation for upholding and supporting migrants' rights looks ever bleaker.
States, most of all those in the richest countries, bear the ultimate responsibility to uphold the human rights of refugees and migrants recognised under International Human Rights Law. Yet corporations are also deeply implicated. It is their finance, their products, their services, their infrastructure that underpins the structures of state migration and border control. In some cases, they are directly involved in human rights violations themselves; in other cases they are indirectly involved as they facilitate the system that systematically denies refugees and migrants their rights. Most of all, through their lobbying, involvement in government 'expert' groups, revolving doors with state agencies, it becomes clear that corporations are not just accidental beneficiaries of the militarisation of borders. Rather they actively shape the policies from which they profit and therefore share responsibility for the human rights violations that result.
This state-corporate fusion is best described as a Border Industrial Complex, drawing on former US President Eisenhower's warning of the dangers of a Military-Industrial Complex. Indeed it is noticeable that many of the leading border industries today are also military companies, seeking to diversify their security products to a rapidly expanding new market.
This report seeks to explore and highlight the extent of today's global border security industry, by focusing on the most important geographical markets—Australia, Europe, USA—listing the human rights violations and risks involved in each sector of the industry, profiling important corporate players and putting a spotlight on the key investors in each company.
A booming industry
The border industry is experiencing spectacular growth, seemingly immune to austerity or economic downturns. Market research agencies predict annual growth of the border security market of between 7.2% and 8.6%, reaching a total of $65–68 billion by 2025. The largest expansion is in the global Biometrics and Artificial Intelligence (AI) markets. Markets and Markets forecasts the biometric systems market to double from $33 billion in 2019 to $65.3 billion by 2024—of which biometrics for migration purposes will be a significant sector. It says that the AI market will equal US$190.61 billion by 2025.
The report investigates five key sectors of the expanding industry: border security (including monitoring, surveillance, walls and fences), biometrics and smart borders, migrant detention, deportation, and audit and consultancy services. From these sectors, it profiles 23 corporations as significant actors: Accenture, Airbus, Booz Allen Hamilton, Classic Air Charter, Cobham, CoreCivic, Deloitte, Elbit, Eurasylum, G4S, GEO Group, IBM, IDEMIA, Leonardo, Lockheed Martin, Mitie, Palantir, PricewaterhouseCoopers, Serco, Sopra Steria, Thales, Thomson Reuters, Unisys.
The border security and control field, the technological infrastructure of security and surveillance at the border, is led by US, Australian, European and Israeli firms including Airbus, Elbit, Leonardo, Lockheed Martin, Airbus, Leonardo and Thales— all of which are among the world's major arms sellers. They benefit not only from border contracts within the EU, US, and Australia but also increasingly from border externalisation programmes funded by these same countries. Jean Pierre Talamoni, head of sales and marketing at Airbus Defence and Space (ADS), said in 2016 that he estimates that two thirds of new military market opportunities over the next 10 years will be in Asia and the Middle East and North Africa (MENA) region. Companies are also trying to muscle in on providing the personnel to staff these walls, including border guards.


The Smart Borders sector encompasses the use of a broad range of (newer) technologies, including biometrics (such as fingerprints and iris-scans), AI and phone and social media tracking. The goal is to speed up processes for national citizens and other acceptable travellers and stop or deport unwanted migrants through the use of more sophisticated IT and biometric systems. Key corporations include large IT companies, such as IBM and Unisys, and multinational services company Accenture for whom migration is part of their extensive portfolio, as well as small firms, such as IDEMIA and Palantir Technologies, for whom migration-related work is central. The French public–private company Civipol, co-owned by the state and several large French arms companies, is another key player, selected to set up fingerprint databases of the whole population of Mali and Senegal.


Deportation. With the exception of the UK and the US, it is uncommon to privatise deportation. The UK has hired British company Mitie for its whole deportation process, while Classic Air Charter dominates in the US. Almost all major commercial airlines, however, are also involved in deportations. Newsweek reported, for example, that in the US, 93% of the 1,386 ICE deportation flights to Latin American countries on commercial airlines in 2019 were facilitated by United Airlines (677), American Airlines (345) and Delta Airlines (266).


Detention. The Global Detention Project lists over 1,350 migrant detention centres worldwide, of which over 400 are located in Europe, almost 200 in the US and nine in Australia. In many EU countries, the state manages detention centres, while in other countries (e.g. Australia, UK, USA) there are completely privatised prisons. Many other countries have a mix of public and private involvement, such as state facilities with private guards. Australia outsourced refugee detention to camps outside its territories. Australian service companies Broadspectrum and Canstruct International managed the detention centres, while the private security companies G4S, Paladin Solutions and Wilson Security were contracted for security services, including providing guards. Migrant detention in third countries is also an increasingly important part of EU migration policy, with the EU funding construction of migrant detention centres in ten non-EU countries.


Advisory and audit services are a more hidden part of public policies and practices, but can be influential in shaping new policies. A striking example is Civipol, which in 2003 wrote a study on maritime borders for the European Commission, which adopted its key policy recommendations in October 2003 and in later policy documents despite its derogatory language against refugees. Civipol's study also laid foundations for later measures on border externalisation, including elements of the migration deal with Turkey and the EU's Operation Sophia. Since 2003 Civipol has received funding for a large number of migration-related projects, especially in African countries. Between 2015 and 2017, it was the fourth most-funded organisation under the EU Trust Fund. Other prominent corporations in this sector include Eurasylum, as well as major international consultancy firms, particularly Deloitte and PricewaterhouseCoopers, for which migration-related work is part of their expansive portfolio.
Financing the industry
The markets for military and border control procurement are characterized by massively capital intensive investments and contracts, which would not be possible without the involvement of financial actors. Using data from marketscreener.com, the report shows that the world's largest investment companies are also among the major shareholders in the border industry.
The Vanguard Group owns shares in 15 of the 17 companies, including over 15% of the shares of CoreCivic and GEO Group that manage private prisons and detention facilities.


Other important investors are Blackrock, which is a major shareholder in 11 companies, Capital Research and Management (part of the Capital Group), with shares in arms giants Airbus and Lockheed Martin, and State Street Global Advisors (SsgA), which owns over 15% of Lockheed Martin shares and is also a major shareholder in six other companies.


Although these giant asset management firms dominate, two of the profiled companies, Cobham and IDEMIA, are currently owned by the private equity firm Advent International. Advent specialises in buyouts and restructuring, and it seems likely that it will attempt to split up Cobham in the hope of making a profit by selling on the component companies to other owners.


In addition, three large European arms companies, Airbus, Thales and Leonardo, active in the border security market, are partly owned by the governments of the countries where they are headquartered.
In all cases, therefore, the financing depends on our money. In the case of state ownership, through our taxes, and in terms of asset management funds, through the way individual savings, pension funds, insurance companies and university endowments are directly invested in these companies via the giant Asset Management Funds. This financing means that the border industry survives on at least the tacit approved use of the public's funds which makes it vulnerable to social pressure as the human rights costs of the industry become ever more clear.
Human rights and the border industry
Universal human rights apply to every single human being, including refugees and migrants. While the International Bill of Human Rights provides the foundation, including defining universal rights that are important in the context of migration, such as the right to life, liberty and security of person, the right to freedom from torture or cruel or inhumane or degrading treatment or punishment, and freedom from discrimination, there are other instruments such as the United Nations Convention Relating to the Status of Refugees (Refugee Convention or Geneva Convention) of 1951 that are also relevant. There are also regional agreements, including the Organisation of African Unity Convention Governing the Specific Aspects of Refugee Problems in Africa and the European Convention on Human Rights (ECHR) that play a role relevant to the countries that have ratified them.
Yet despite these important and legally binding human rights agreements, the human rights situation for refugees and migrants has become ever more desperate. States frequently deny their rights under international law, such as the right to seek asylum or non-refoulement principles, or more general rights such as the freedom from torture, cruel or inhumane treatment. There is a gap with regard to effective legal means or grievance mechanisms to counter this or to legally enforce or hold to account states that fail to implement instruments such as the UDHR and the Refugee Convention of 1951. A Permanent Peoples Tribunal in 2019 even concluded that 'taken together, the immigration and asylum policies and practices of the EU and its Member States constitute a total denial of the fundamental rights of people and migrants, and are veritable crimes against humanity'. A similar conclusion can be made of the US and Australian border and immigration regime.
The increased militarisation of border security worldwide and state-sanctioned hostility toward migrants has had a deeply detrimental impact on the human rights of refugees and migrants.
Increased border security has led to direct violence against refugees, pushbacks with the risk of returning people to unsafe countries and inhumane circumstances (contravening the principle of non-refoulement), and a disturbing rise in avoidable deaths, as countries close off certain migration routes, forcing migrants to look for other, often more dangerous, alternatives and pushing them into the arms of criminal smuggling networks.


The increased use of autonomous systems of border security such as drones threaten new dangers related to human rights. There is already evidence that they push migrants to take more dangerous routes, but there is also concern that there is a gradual trend towards weaponized systems that will further threaten migrants' lives.


The rise in deportations has threatened fundamental human rights including the right to family unity, the right to seek asylum, the right to humane treatment in detention, the right to due process, and the rights of children'. There have been many instances of violence in the course of deportations, sometimes resulting in death or permanent harm, against desperate people who try to do everything to prevent being deported. Moreover, deportations often return refugees to unsafe countries, where they face violence, persecution, discrimination and poverty.


The widespread detention of migrants also fundamentally undermines their human rights . There have been many reports of violence and neglect by guards and prison authorities, limited access to adequate legal and medical support, a lack of decent food, overcrowding and poor and unhealthy conditions. Privatisation of detention exacerbates these problems, because companies benefit from locking up a growing number of migrants and minimising costs.


The building of major migration databases such as EU's Eurodac and SIS II, VIS gives rise to a range of human rights concerns, including issues of privacy, civil liberties, bias leading to discrimination—worsened by AI processes -, and misuse of collected information. Migrants are already subject to unprecedented levels of surveillance, and are often now treated as guinea pigs where even more intrusive technologies such as facial recognition and social media tracking are tried out without migrants consent.
The trend towards externalisation of migration policies raises new concerns as it seeks to put the human costs of border militarisation beyond the border and out of public sight. This has led to the EU, US and Australia all cooperating with authoritarian regimes to try and prevent migrants from even getting close to their borders. Moreover as countries donate money, equipment or training to security forces in authoritarian regimes, they end up expanding and strengthening their capacities which leads to a rise in human rights violations more broadly. Nowhere are the human rights consequences of border externalisation policies clearer than in the case of Libya, where the EU and individual member states (in particular Italy and Malta) funding, training and cooperation with security forces and militias have led to violence at the borders, murder, disappearances, rape, enslavement and abuse of migrants in the country and torture in detention centres.
The 23 corporations profiled in this report have all been involved in or connected to policies and practices that have come under fire because of violations of the human rights of refugees and migrants. As mentioned earlier, sometimes the companies are directly responsible for human rights violations or concerns. In other cases, they are indirectly responsible through their contribution to a border infrastructure that denies human rights and through lobbying to influence policy-making to prioritize militarized responses to migration. 11 of the companies profiled publicly proclaim their commitment to human rights as signatories to the UN Guiding Principles on Business and Human Rights (UNGPs), but as these are weak voluntary codes this has not led to noticeable changes in their business operations related to migration.
The most prominent examples of direct human rights abuses come from the corporations involved in detention and deportation. Classic Air Charter, Cobham, CoreCivic, Eurasylum, G4S, GEO Group, Mitie and Serco all have faced allegations of violence and abuse by their staff towards migrants. G4S has been one of the companies most often in the spotlight. In 2017, not only were assaults by its staff on migrants at the Brook House immigration removal centre in the UK broadcast by the BBC, but it was also hit with a class suit in Australia by almost 2,000 people who are or were detained at the externalised detention centre on Manus Island, because of physical and psychological injuries as a result of harsh treatment and dangerous conditions. The company eventually settled the case for A$70 million (about $53 million) in the largest-ever human rights class-action settlement. G4S has also faced allegations related to its involvement in deportations.
The other companies listed all play a pivotal role in the border infrastructure that denies refugees' human rights. Airbus P-3 Orion surveillance planes of the Australian Air Force, for example, play a part in the highly controversial maritime wall that prevents migrants arriving by boat and leads to their detention in terrible conditions offshore. Lockheed Martin is a leading supplier of border security on the US-Mexico border. Leonardo is one of the main suppliers of drones for Europe's borders. Thales produces the radar and sensor systems, critical to patrolling the Mediterrean. Elbit Systems provides surveillance technologies to both the EU and US, marketed on their success as technologies used in the separation wall in the Palestinian occupied territories. Accenture, IDEMIA and Sopra Steria manage many border biometric projects. Deloitte has been one of the key consulting companies to the US Immigration and Customs Enforcement (ICE) agency since 2003, while PriceWaterhouseCoopers provides similar consultancy services to Frontex and the Australian border forces. IBM, Palantir and UNISYS provide the IT infrastructure that underpins the border and immigration apparatus.
Time to divest
The report concludes by calling for campaigns to divest from the border industry. There is a long history of campaigns and movements that call for divestment from industries that support human rights violations—from the campaigns to divest from Apartheid South Africa to more recent campaigns to divest from the fossil fuel industry. The border industry has become an equally morally toxic asset for any financial institution, given the litany of human rights abuses tied to it and the likelihood they will intensify in years to come.
There are already examples of existing campaigns targeting particular border industries that have borne fruit. A spotlight on US migrant detention, as part of former President Trump's anti- immigration policies, contributed to six large US banks (Bank of America, BNP Paribas, Fifth Third Bancorp, JPMorgan Chase, SunTrust, and Wells Fargo) publicly announcing that they would not provide new financing to the private prison industry. The two largest public US pension funds, CalSTRS and CalPERS, also decided to divest from the same two companies. Geo Group acknowledged that these acts of 'public resistance' hit the company financially, criticising the banks as 'clearly bow[ing] down to a small group of activists protesting and conducting targeted social media campaigns'.
Every company involved or accused of human rights violations either denies them or says that they are atypical exceptions to corporate behavior. This report shows however that a militarised border regime built on exclusion will always be a violent apparatus that perpetuates human rights violations. It is a regime that every day locks up refugees in intolerable conditions, separates families causing untold trauma and heartbreak, and causes a devastating death toll as refugees are forced to take unimaginable dangerous journeys because the alternatives are worse. However well-intentioned, any industry that provides services and products for this border regime will bear responsibility for its human consequences and its human rights violations, and over time will suffer their own serious reputational costs for their involvement in this immoral industry. On the other hand, a widespread exodus of the leading corporations on which the border regime depends could force states to change course, and to embrace a politics that protects and upholds the rights of refugees and migrants. Worldwide, social movements and the public are starting to wake up to the human costs of border militarisation and demanding a fundamental change. It is time now for the border industry and their financiers to make a choice.