Shrinking Space and The BDS Movement
A widening pattern of repression of social movements has taken shape around the world. Everywhere, space for dissent is shrinking rapidly. Governments and corporations alike are working to suppress and silence movements, organisations and individuals who organise against repression. This shrinking of public space threatens virtually all social movements. Around the world, the legality, physical safety, and public access of dissident movements and civil society more broadly are being threatened. This report examines the legal and political pressure exerted on the Boycott, Divestment and Sanctions (BDS) Movement, a global campaign aimed at pressuring Israel to end human rights violations, launched in 2005 by a group of Palestinian activists.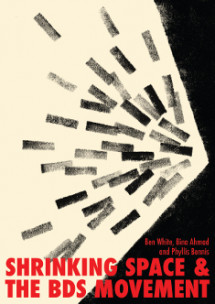 Downloads
The BDS campaign urges "non-violent pressure on Israel" until it "meets its obligation to recognize the Palestinian people's inalienable right to self-determination and fully complies with the precepts of international law". Three specific demands are cited: first, "ending its occupation and colonization of all Arab lands and dismantling the Wall"; second, "recognizing the fundamental rights of the Arab-Palestinian citizens of Israel to full equality"; and third, "respecting, protecting and promoting the rights of Palestinian refugees to return to their homes and properties as stipulated in UN resolution 194". Those three demands, crucially, stand alone. They do not choose among, or stipulate, political frameworks for the realisation of those rights – for example, two-states, or a single, democratic state – but rather affirms their inalienability and centrality in any final settlement. BDS is a broad, non-violent political movement and, as such, attempts to criminalize or repress it should be scrutinized and challenged, whether or not one agrees with its goals or methods.
Background
Across the globe, the first decades of the twenty-first century have been tumultuous. The world continues to reel from the bitter consequences of the post-9/11 Global War on Terror and the US-UK invasion and occupation of Iraq, the international financial crisis of 2007-08 and the recession that resulted, the Arab Spring and its sometimes catastrophic aftermaths including the multiple wars in Syria. The numerous refugee crises of 2015 and beyond, the rise of Donald Trump in the US, and his administration's enabling of an expanding cast of authoritarian leaders in a widely disparate array of countries, are all putting marginalized communities — refugees, other migrants, immigrants, Muslims, children, people of color, LGBTQ communities, poor people in general — at enormous risk. Parties grounded in racism, xenophobia, corporate greed, misogyny, militarism, Islamophobia, are all vying for popular support and power in many countries, achieving one or both in far too many places. Hundreds of millions of people have paid – and are still paying – the price.

At the same time, social movements continue to rise, challenging those dangerous trends. New resistance mobilizations created, tired movements reenergized, future-oriented movements re-envisioned to challenge existing and rapidly escalating local, national and global crises. In some countries social movements have morphed into political parties and begun engaging directly with power. Unarmed uprisings — of poor people and communities of color, of teachers and nurses, of low-wage workers, of oppressed racial and religious minorities, of civilians in war zones and people living under military occupation, all took shape. Not surprisingly, powerful economic and political forces opposed to those non-violent resistance movements escalated their response, relying on governmental and corporate-driven tools to suppress these insurgent champions of a different national and world order.

So a widening pattern of repression of social movements has taken shape around the world, from the supposed democracies of Europe, North America and beyond, to the many countries long known for harsh crackdowns on opposition voices. Everywhere, space for dissent is shrinking rapidly. We see governments and corporations alike working to suppress and silence movements, organisations and individuals who organise against the escalating repression.

Shrinking Space and The BDS Movement is the latest report in TNI's series Rethinking Shrinking Space. Rising repression and restrictions for civil society organisations and social movements have put the issue of 'shrinking space' on the NGO agenda. TNI believes that "political space" for civil society is not 'shrinking', but rather being taken away, closed down and rendered uninhabitable. TNI is is working with activists and academics to probe the issue critically.