Estado del poder 2015
Una antología anual sobre poder y resistencia global
Esta es la cuarta edición de nuestro informe anual Estado del poder, coincidiendo con la cumbre en Suiza de lo que Susan George denomina "la clase de Davos". Esta recopilación de ensayos persigue analizar las diferentes dimensiones del poder, poner al descubierto a quienes lo ostentan en nuestro mundo globalizado e identificar fuentes de contrapoder transformador.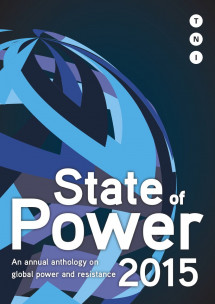 Descargar como libro electrónico (en inglés, €3) - Kindle; Epub
Este año, el TNI ha realizado un experimento de colaboración académica, lanzando una convocatoria abierta para la presentación de ensayos. La idea era recibir aportaciones de académicos-activistas que trabajan más allá de nuestros círculos inmediatos y ver cómo eso determinaría el contenido final del informe. La recopilación de ensayos abarca un impresionante abanico de temas, desde el derecho corporativo al dominio del sector financiero, y desde la gran minería a la especulación alimentaria. También ponen de relieve las numerosas luchas sociales que cuestionan las dinámicas del poder, desde México a Mozambique, pasando por Canadá, Italia o Grecia.
Por el momento, el informe completo solo está disponible en inglés, aunque algunos de los ensayos ya se pueden leer en español y algunos otros se traducirán en los próximos meses.
Índice
El nuevo derecho corporativo global (PDF, 266 KB)
Juan Hernández Zubizarreta

Las transnacionales han sustituido el Estado de derecho por un derecho corporativo global, usando multitud de normas, convenios y acuerdos para garantizar su derecho al lucro por encima de los derechos humanos.
Political Capture by the Financial Industry (en inglés; PDF, 184KB)
Manolis Kalaitzake
How did the financial sector succeed escaping censure and even effective regulation despite the global economic crisis? Through the case study of the proposed Financial Transaction Tax, Kalaitzake looks at how the financial sector succeeded in capturing policy and politicians and how we might challenge their power.
The True Stakes of Internet Governance (en inglés; PDF, 103KB)
Richard Hill
Many people understand how the Internet has revolutionised society, but have we really grasped the power implications? Richard Hill shows how US policy-makers have used the ad hoc 'multi-stakeholder' governance of the Internet for political and economic ends.
Gambling on Hunger and Climate Change (en inglés; PDF, 520KB)
Sasha Breger Bush
Financial speculation has not just rewarded bankers; it has played a major role in fuelling hunger, land dispossession and climate change. Yet the financial sector innovates false financial 'solutions' to the very problems it creates.
Mexico: Challenging Drug Prohibition from Below (en inglés; PDF, 1010KB)
Sebastian Scholl
The horrific forced disappearance of 43 students in Iguala reveals how organised crime and corruption thrive in conditions of institutional or democratic weakness, shaped to a large extent by distinctive transnational relations (importantly, in this case, with the US). Fortunately groups like the Movement for Peace with Justice and Dignity are showing a burgeoning 'social power' that has the potential to change politics and policy.
La gran minería a debate: de Canadá a Mozambique (PDF, 441 KB)
Judith Marshall
Las transnacionales de la minería y la industria extractiva han conseguido un poder sin precedentes en todos los países, independientemente de la tendencia política de sus Gobiernos. Este ensayo analiza cómo se ha desarrollado esa 'relación íntima' entre Gobiernos y empresas, y cómo se puede organizar la lucha para enfrentarla.
Organizando el contrapoder obrero en Italia y Grecia (PDF, 234 KB)
Lorenzo Zamponi y Markos Vogiatzoglou
La austeridad en Grecia e Italia se ha cebado especialmente con las clases trabajadoras, pero también ha generado un contexto para "organizar a los no organizados" y experimentar con nuevos tipos de espacios de trabajo.
(PDF, 274 KB)
Michael Perelman
Los economistas han apoyado el poder de las élites de forma sistemática, a veces poniéndose abiertamente de su lado, y casi siempre ignorando u ocultando el poder, dando a la economía un barniz de ciencia, en que el impacto sobre las personas y el medio ambiente queda al margen del escrutinio público.
Además de los ensayos incluidos en el libro, recibimos otras excelentes propuestas, que se pueden leer en nuesto apartado de lecturas recomendadas.