Biden's Border
The industry, the Democrats and the 2020 elections
This briefing profiles the leading US border security contractors, their related financial campaign contributions during the 2020 elections, and how they have shaped a bipartisan approach in favor of border militarization for more than three decades. It suggests that a real change in border and immigration policies will require the Democrats to break with the industry that helps finance them.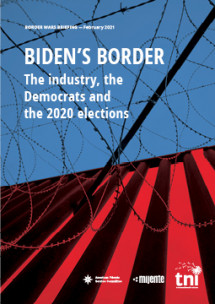 Download the full policy briefing here.
Key findings:
Early into his presidency, Joe Biden has already indicated through 10 executive orders that he wants to end the brutality associated with Trump's border and immigration policies. However undoing all the harmful dimensions of the US border regime will require substantial structural change and an end to the close ties between the Democrats and the border industry.


The border security and immigration detention industry has boomed in the last decades thanks to constant increases in government spending by both parties—Democrats and Republicans. Between 2008 and 2020, CBP and ICE issued 105,997 contracts worth $55.1 billion to private corporations.The industry is now deeply embedded in US government bodies and decision-making, with close financial ties to strategic politicians.


13 companies play a pivotal role in the US border industry: CoreCivic, Deloitte, Elbit Systems, GEO Group, General Atomics, General Dynamics, G4S, IBM, Leidos, Lockheed Martin, L3Harris, Northrop Grumman, and Palantir. Some of the firms also provide other services and products to the US government, but border and detention contracts have been a consistently growing part of all of their portfolios.


These top border contractors through individual donations and their Political Action Committees (PACs) gave more than $40 million during the 2020 electoral cycle to the two parties ($40,333,427). Democrats overall received more contributions from the big border contractors than the Republicans (55 percent versus 45 percent). This is a swing back to the Democrats, as over the last 10 years contributions from 11 of the 13 companies have favored Republicans. It suggests an intention by the border industry to hedge their political bets and ensure that border security policies are not rolled back to the detriment of future profits.


The 13 border security companies' executives and top employees contributed three times more to Joe Biden ($5,364,994) than to Donald Trump ($1,730,435).


A few border security companies show preferences towards one political party. Detention-related companies, in particular CoreCivic, G4S and GEO Group, strongly favor Republicans along with military contractors Elbit Systems and General Atomics, while auditing and IT companies Deloitte, IBM and Palantir overwhelmingly favor the Democrats.


The 13 companies have contributed $10 million ($9,674,911) in the 2020 electoral cycle to members of strategic legislative committees that design and fund border security policies: the House and Senate Appropriations Committees and the House Homeland Security Committee. The biggest contributors are Deloitte, General Dynamics, L3Harris, Leidos, Lockheed Martin and Northrop Grumman, and nearly all donate substantially to both parties, with a preference for Republican candidates. Democrat Senator Jack Reed ($426,413), Republican Congresswoman Kay Granger ($442,406) and Republican Senator Richard Shelby ($430,150) all received more than $400,000 in 2020.


Biden is opposed to the wall-building of Trump, but has along with many Democrats voiced public support for a more hidden 'virtual wall' and 'smart borders', deploying surveillance technologies that will be both more lucrative for the industry and more hidden in terms of the abuses they perpetrate.


Department of Homeland Security Secretary, Alejandro Mayorkas developed and implemented DACA under Obama's administration, but also as a lawyer with the firm WilmerHale between 2018 and 2020 earned $3.3 million representing companies including border contractors Northrop Grumman and Leidos.


Over the last 40 years, Biden has a mixed voting record on border policy, showing some support for immigrant rights on several occasions but also approving legislation (the 1996 Illegal Immigration and Immigration Reform Act) that enabled the mass deportations under Obama, and the 2006 Secure Fence Act, which extended the wall long before Trump's election.


The Democrat Party as a whole also has a mixed record. Under President Bill Clinton, the Democrats approved the 1994 Prevention through Deterrence national border strategy and implemented the 1996 Illegal Immigration Reform and Immigration Responsibility Act that dramatically increased the pace of border militarization as well as deportations. Later Obama became the first president to deport nearly 3 million people during his eight-year term.


Nearly 8,000 bodies have been recovered in the U.S.–Mexico borderlands between 1998 and 2019 as a result of policies by both parties. The organization No More Deaths has estimated that three to ten times as many people may have died or disappeared since today's border-enforcement strategy was implemented. The border industrial complex's profits are based on border and immmigration policies that have deadly consequences.